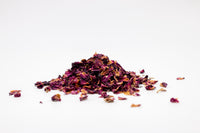 Rose Petals - a fan favorite
Our Red Rose Petals are food grade, making them a unique ingredient to bake with, use as a garnish on lattes, make herbal tea with and much more. Rose petals are often used in DIY beauty products and crafts.
shop rose petals >
Nettle Leaf
Nettle Leaf has many uses and potential health benefits, particularly helping with inflammation. Nettle can be brewed into tea, used in many culinary recipes and much more.
Shop Nettle Leaf >